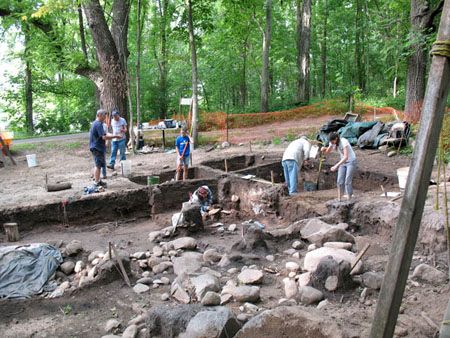 The 1849 Methodist Episcopal Mission was excavated by Park volunteers and students between 2004 and 2010. The excavation was led by Dr. Dale Borders of Grand Valley State University.
"Indian Landing" is located in Charlton Park along the Thornapple River in Hastings Township. In 1849, the Thornapple Band of Ottawa Native Americans owned the property, but they permitted Rev. Manasseh Hickey, a Episcopal Methodist minister, to build a mission on their land that year. The mission was a 30 foot square two room log cabin with an alley and fireplace separating the rooms. A fireplace was shared by both rooms and wood could be fed into the fire from outdoors. Sources say, that Sundays before church, a horn would be blown to call Native American and Euro-American settlers to services. This horn could be heard up to 4 miles, alerting people on the opposite side of the Thornapple River that it was time for church. They came to the waters edge and were ferried across by the Native Americans for services. The mission operated until 1854, when the Native Americans sold the property to Henry Edgecomb and moved to the Middleville area.
The mission was located near a creek in a grove of walnut trees, where the current excavation is taking place. After the departure of the Native Americans, the mission was turned into a home by multiple landowners. Most objects found come from the habitation period, approximately 1855 - 1871. In 1871, the property was purchased by Elam Crook who already owned a farm a mile to the west. By 1894 only the cabin's foundation remained. The objects on display here illustrate that settlers in this area had almost the same amenities as those that lived in large cities. Barry County was not a backwater, but a thriving young community in Michigan.