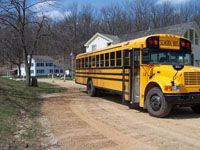 History is alive and exciting in Historic Charlton Park's village! School children of all ages can spend a day immersed in the activities of a typical 19th century Michigan community. Programs are offered in the spring, summer and fall. 
Programs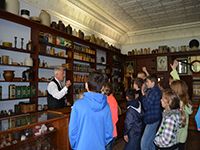 Live-In Students live the life of a child at the turn-of-the-century by participating in daily chores and activities. They will visit the Bristol Inn and stagecoach stop, General Store and Lee Schoolhouse. ($6/student, $10/adult)
Down on the Farm Students experience what life may have been like living on a farm in the late 1800's. They will visit the Bristol Inn and Lee Schoolhouse as well as the Hastings Township Hall for candle-making. ($6/student, $10/adult)
Victorian Christmas Students participate in a variety of activities that bring a Victorian Christmas to life. Students take home the decorations they make such as cornucopia ornaments, strings of popcorn and cranberries, candles and others. ($6/student, $10/adult)
Turn Back Time (Virtual Program) Access all online materials. Schedule a 30-45 minute virtual meeting with a presenter for a mystery object warm-up, open floor Q&A with a historic interpreter, and a hands-on activity. All materials are provided. ($35 activity fee, $6/student per class of 18-32)
Outreach Is Historic Charlton Park too far away? Is your budget tight? We can come to you! Using "Mystery Artifacts," students learn how read an object -  asking the questions "who? what? when? why? where? how?" students discover an historic object's true function and historical significance. (Cost varies)
Contact the Programming Coordinator Steve Evans for more information at eduprogram@charltonpark.org, 269-945-3775 or fill out a request here.