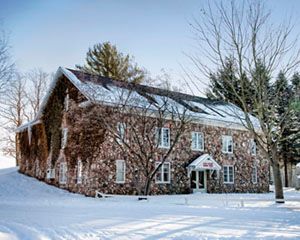 Historic Charlton Park was established in 1936 by Irving Delos Charlton, who donated the property to Barry County. Construction began on the stone Barry County Museum in 1944, but was not completed until 1950. It was the first building erected at Historic Charlton Park and is now known as the Irving D. Charlton Memorial Museum (Photo).
Charlton was an avid collector; he always dreamed of having a museum. Everywhere he went he collected old objects. Charlton began collecting them so future generations might understand the difficult tasks early inhabitants of Barry County performed without the benefit of powered equipment.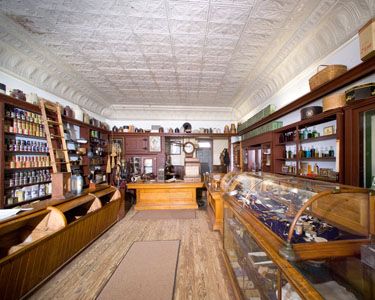 Charlton never envisioned a village here, although we are sure he would be pleased with the results. The village depicts more clearly the "day to day" life of the early inhabitants of Barry County. The variety of objects Charlton collected enabled the creation of a typical mid-Michigan village of the late 1800's to early 1900's. Charlton's collection preserves for future generations a rich heritage and Barry County's testament to an earlier time.
25 historic residences, businesses and community buildings were moved from throughout Barry County to create the village. The Blacksmith Shop was the first historic building open to the public in 1970. The village buildings include:
Stop by the village signpost near Upjohn House Visitor Center and pick up your walking tour guide brochure. If you would like a guided tour of the village, a guided tour is $4 per person, available Monday-Friday, 9 a.m. to 4 p.m., April through December. Please contact the office at 269-945-3775 prior to your visit to reserve your time for a guided tour, walk-in guided tours are not available. If you would like to self-guide the village between September and December, please contact the office as well to reserve a time.
Open daily Memorial Day through Labor Day from 9:00am to 4:00pm.
During weekdays - A portion of the Village buildings open, please call ahead for list of those open. 
During paid events - Village buildings open. 
During unpaid events - Majority of Historic Village buildings open.
Before Memorial Day and after Labor Day (September-April), historic buildings are only open for prescheduled groups (including guided tours) and special events.