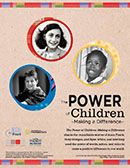 Organized by The Children's Museum of Indianapolis, The Power of Children has been made possible through NEH on the Road, a special initiative of the National Endowment for the Humanities. It has been adapted and toured nationally by Mid-America Arts Alliance.
The Power of Children encourages children and families to explore problems of isolation, fear, and prejudice, by giving a personal face to three major issues of the 20th century: the Holocaust, the Civil Rights movement, and the AIDS epidemic. Through audio-visual presentations, original artifacts, and hands-on interactive displays, visitors will get to know each child's story, and immersive environments will bring them into the spaces where each child felt safe.
The Power of Children will be on display at the Irving D. Memorial Museum at Historic Charlton Park from June 17 to August 10, 2018. The exhibit will be open M-F from 9 a.m. to 4 p.m., and on special events weekends. In There is no additional cost to visit the exhibit or attend any of the presentations.
In conjunction with the exhibit, Historic Charlton Park is pleased to present a series of programs. These programs will be a great addition to The Power of Children exhibit, and will begin at 6 p.m. on the following dates:
Thursday, June 21 – Voices, presented by local theater enthusiasts. The Power of Children exhibit components includes a collection of monologues put together by The Children's Museum of Indianapolis. These monologues feature people who were integral in each child's experience, and add another dimension to their story. Local theater enthusiasts from Barry and Kalamazoo counties have taken on the roles of these important people, and will perform the monologues in the Carlton Center Church.
 
Tuesday, July 10 – My Mother's Voice, presented by Judy Sima, Storyteller. Ms. Sima will tell the compelling story of her mother's encounter with the Gestapo, escape from Germany, and adjustment to life in America. The second part of the program will encourage participation from the audience to tell stories about their parents. The presentation will take place in the Carlton Center Church.
 
Thursday, August 2 – Oh Freedom! Songs of the Civil Rights Movement, presented by Chris Vallillo, Musician. In a show created to celebrate the 50th anniversary of the civil rights movement, award winning Illinois folksinger Chris Vallillo performs pivotal songs from the music that inspired and sustained this landmark movement. Intermixed with the music, Vallillo presents firsthand accounts of the historic struggle and discusses the impact of music to our nations most important social cause. The concert will take place on the Village Green (rain location: Carlton Center Church).
---