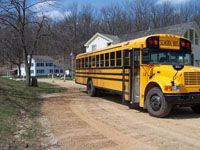 History is alive and exciting in Historic Charlton Park's village! School children of all ages can spend a day immersed in the activities of a typical 19th century Michigan community. Programs are offered in the spring, summer and fall. 
Programs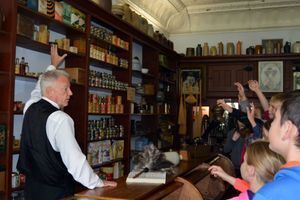 Live-In Students live the life of a child at the turn-of-the-century by participating in daily chores and activities. They will visit the Bristol Inn and stagecoach stop, General Store and Lee Schoolhouse. ($6/student, $10/adult)
Down on the Farm Students experience what life may have been like living on a farm in the late 1800's. They will visit the Bristol Inn and Lee Schoolhouse as well as the Hastings Township Hall for candle-making. ($6/student, $10/adult)
Victorian Christmas Students participate in a variety of activities that bring a Victorian Christmas to life. Students take home the decorations they make such as cornucopia ornaments, strings of popcorn and cranberries, candles and others. ($6/student, $10/adult)
Outreach Is Historic Charlton Park too far away? Is your budget tight? We can come to you! Using "Mystery Artifacts," students learn how read an object -  asking the questions "who? what? when? why? where? how?" students discover an historic object's true function and historical significance. (Cost varies)
Contact the Programming Coordinator for more information at eduprogram@charltonpark.org, 269-945-3775, or fill out the Program Request Form by clicking the button below. .